The Monitor Mode added to the PS VR and SteamVR versions
Today, the major update adding the Monitor Mode "L4" has been applied to the already available PS VR and SteamVR versions of the game. This update allows players without a VR headset to experience the world of Last Labyrinth on a PS4 or PC.
Major Update Last Labyrinth -Lucidity Lost- Overview
Update Title: Last Labyrinth -Lucidity Lost-
Target Distribution Stores: PlayStation™Store, Steam
Target Hardware:

PlayStation 4
Equivalent to SteamVR compatible PC (Minimum Requirements: Windows 10(64bit)/ Intel Core™i5 4590/ NVIDIA GeForce GTX 1060 or above)

Date of update: March 22nd, 2023
Main Updates

Addition of the monitor mode L4.
Other partial fixes to the game flow (including fixes to the VR mode Last Labyrinth)
Update Method: Follow the instructions on the app dashboard to complete the update.
Last Labyrinth -Lucidity Lost- is confirmed for release on Nintendo Switch and Xbox this spring!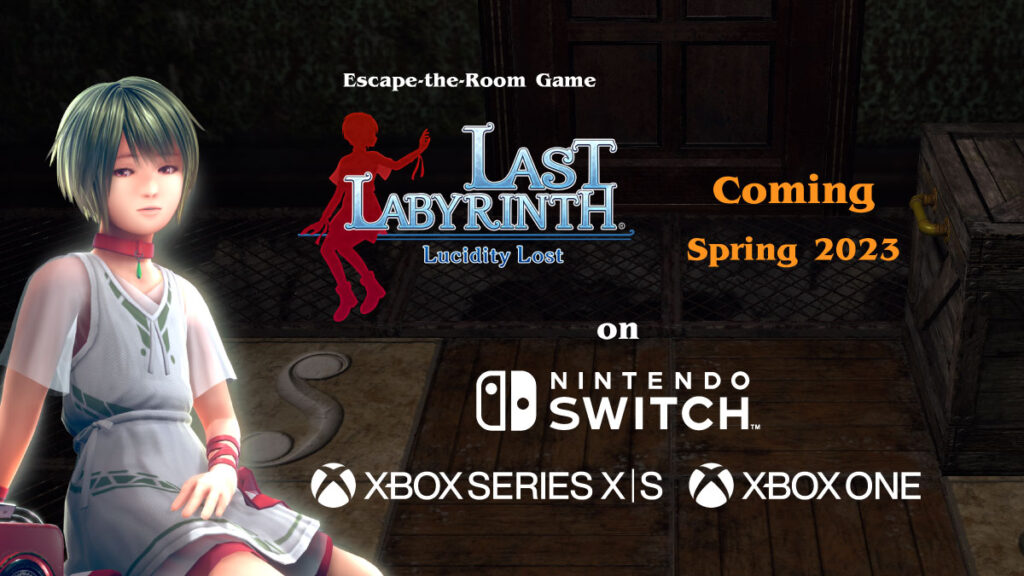 Last Labyrinth -Lucidity Lost-, playable without a VR headset, is scheduled to be released on Nintendo Switch, Xbox Series X|S, and Xbox One in spring 2023. Enjoy the astonishing world of "Last Labyrinth" as it is on a flat-screen monitor. Please stay tuned for the announcement of further details, such as the exact release dates.
Last Labyrinth -Lucidity Lost- Nintendo Switch / Xbox Version Game Overview
Title: Last Labyrinth -Lucidity Lost-
Genre: Escape-the-Room Adventure
Supported Hardware: Nintendo Switch, Xbox Series X|S, Xbox One
Distributing Stores (Download only): Nintendo eShop, Microsoft Store
Number of Players: 1
Online Play: No online play is available.
Release Date: Spring, 2023
CERO: D
Price: TBA
Copyright: ©2016-2023 AMATA K.K. / LL Project